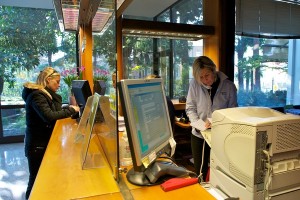 Referrals for outpatient services (paid for by the health authority) are usually forwarded through the province's Single Booking Centre (CUP Tel. +39 848816816) where it is possible to request the services provided at the Eremo.
At admissions, it is necessary to provide the following:
– referral from your GP
– NHS card
– fiscal code
– exemption card, if any
It is also necessary to pay the NHS charges in place (unless you are exempt).
Those who ask for this service on a private basis (paying the full charge) will not have to present the above documents, except for referrals for x-rays (to safeguard the health of the patient), where a letter from your GP or a specialist is required.
Private requests for blood chemistry tests can be made directly to the laboratory, arriving (no documentation required) on any morning from Monday-Friday, from 7:45 am to 9:00 am (7:30 to 9:30 am if arranged beforehand by telephone).