The Eremo has its own kitchen to guarantee excellent quality results, wholesome foods and appropriate therapeutic diet.
Patients can choose different dishes based on a menu that varies throughout their stay, even when they need to make certain corrections to their diet. This is possible thanks to a computerised system dealing with the nature of each patient and their health problems.
Each type of diet will in any case guarantee calorie and protein needs but in light, simple and easily digested meals.
A doctor specialising in nutritional science and a professional dietician are at the patient's disposal to solve any problems when it comes to healthy eating.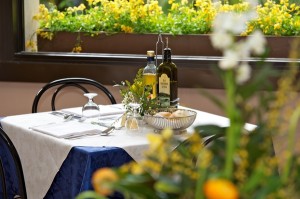 Although the influence of Trentino can be seen in our food, it still abides by the principles of the Mediterranean diet, based on pasta, fish, vegetables and pulses (organic), with extra virgin olive oil (from Garda) as a condiment.
All of our food comes from growers in Trentino, known by the Eremo for the high quality of their crops and produce.
Photo gallery (click on the images to enlarge)